---
82SAN Reforma de casa entre mitgeres a Terrassa
---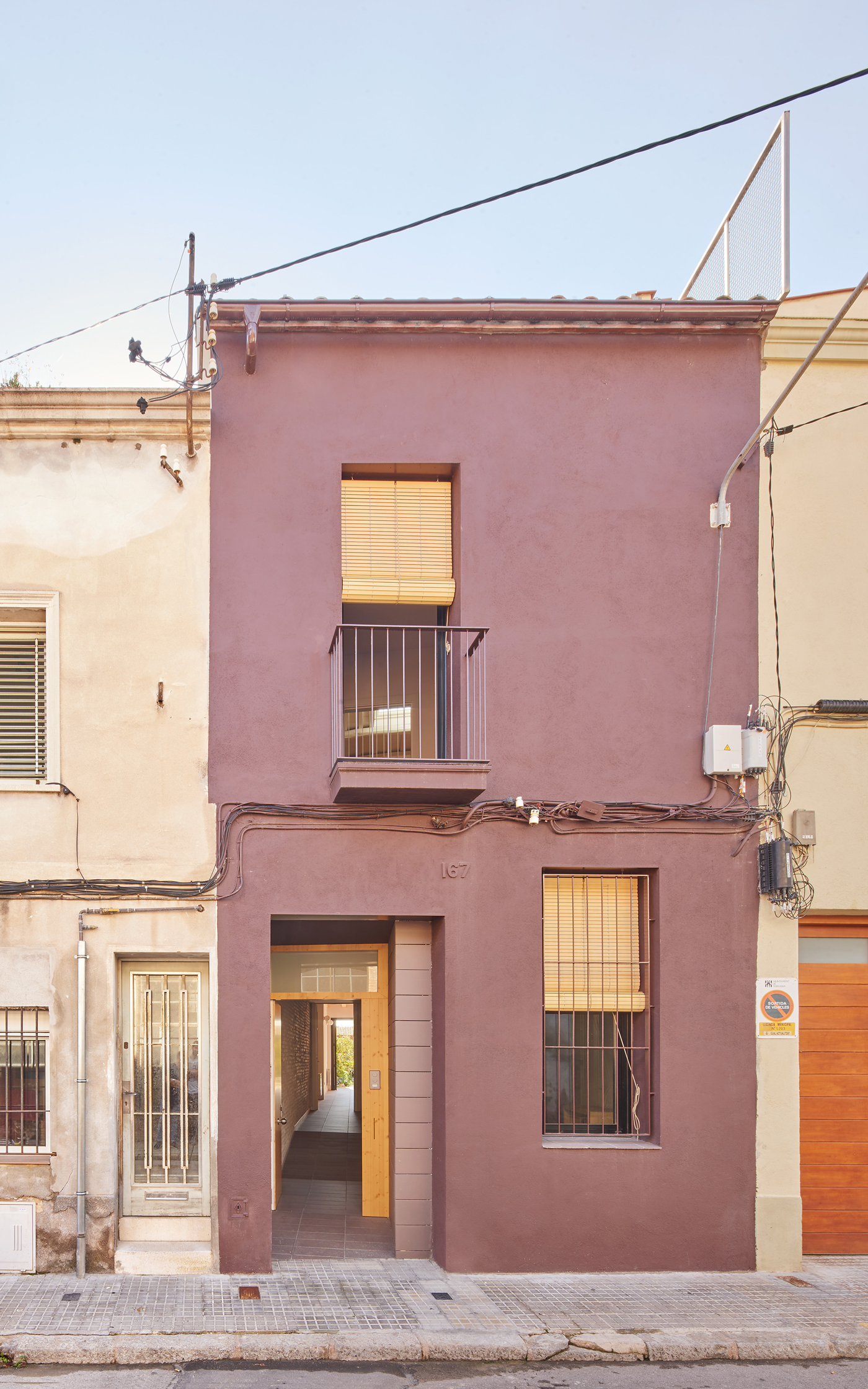 La particularitat d'aquesta casa entre mitgeres rau en una parcel·la molt estreta (3,80m d'amplada) i un pati molt llarg. Els clients, una família formada pels pares i dos fills, necessita el programa estàndard per una família de quatre persones.
Dins la volumetria de l'edifici existent, s'acorda fer tres habitacions de dimensions generoses i proporcions semblants. En planta baixa, donant al carrer, l'habitació del fill gran. En planta primera, dues habitacions, una per la parella i l'altre pel fill petit, cada una situada en una façana. S'aprofita la zona central per fer dos banys. El de planta primera i el de planta baixa que també serà per convidats. S'amplia el volum edificat per poder col·locar la cuina-menjador-estar donant al pati-jardí, a peu pla. S'afegeix un nou altell sota la coberta, que proporciona un espai extra polivalent, apte per a l'estudi o per muntar una quarta habitació. Es manté l'escala original. No cal aparcament.
L'amplada de la casa condiciona la distribució de tal manera que, la disposició dels envans, sembla la translació directe de l'esquema del programa de necessitats. Aquesta simplicitat es compensa treballant amb diferents alçades i tipus de sostre. Els dormitoris tenen un sostre baix, llis i pintat blanc. Les zones públiques de la casa (cuina-menjador, escala, estudi i zona polivalent) tenen sostres alts on es veuen les bigues i els revoltons antics, també blancs. Les zones ampliades (estar i bany de planta segona) llueixen dos nous forjats de bigues i taulers de fusta que donen un contrapunt de calidesa a la casa. A la segona planta, aquest joc d'espais amb alçades diferents adquireix la màxima expressió quan el sostre del nucli de bany i l'escala, molt baix (2,20m), dóna pas a l'estudi on la coberta inclinada antiga queda a una alçada superior als 4,00m. Des d'aquest espai, mitjançant una escala 'de pintor', es puja a l'altell. El paviment cedeix el protagonisme als sostres i unifica el conjunt utilitzant una peça ceràmica rústica. Les proteccions solars, persianes alacantines, sobretot al pati, busquen el mateix efecte que el paviment: Són elements tradicionals, col·locats de manera contemporània.
Es treballa l'envoltant de l'edifici per donar el gruix necessari d'aïllament a façanes, mitgeres i cobertes; es dissenyen les obertures (fusteries i proteccions solars) adequades per controlar els guanys i pèrdues d'energia solar; es col·loquen estratègicament elements petris per donar inèrcia i elements de fusta per afavorir el control higrotèrmic; es valoren les millors opcions per la instal·lació dels sistemes de calefacció, refrigeració i ventilació. Tot, amb l'objectiu que l'habitatge sigui confortable i energèticament eficient.
---
Obra: 82SAN Reforma i ampliació de casa entre mitgeres al centre de Terrassa
Situació: Terrassa, Barcelona
Fase: Obra acabada
Superfície total projecte: 142m²
Any projecte: 2016
Any construcció: 2017-2018
Promotor: Privat
Arquitectes: Llorenç Vallribera, Aleix Gil
(VALLRIBERA ARQUITECTES)
Col·laboradors: Sergi Ballester, estudiant d'arquitectura; Xavier Delgado, arquitecte tècnic; Jesús González, consultor estructura
Consum energia primària total: 50,57 KWh/m² per any
Emissions CO2 totals: 10,59 KgCO2/m² per any
Qualificació Energètica: A
Fotografies: ©José Hevia
---
English
The unique characteristics of this row house come from a very narrow plot (3.8 meters wide) and a very long back yard. The clients, a couple with two children, need the standard program for a family of four.

Within the volume of the existing building, we agree to put in three bedrooms with similar sizes and proportions. On the ground floor, looking over the street, the older son's bedroom. On the second floor, two more bedrooms: one for the couple and the other for the younger son, each located along one of the façades. The center is occupied by two bathrooms: one on the second floor and another on the ground floor, also for guests. The volume of the building is expanded in order to place the kitchen-dining-living room adjacent to the patio-garden, at the same level. A new loft space is added under the roof, which provides and extra multi-purpose room that can be used as a study or as a fourth bedroom. The original staircase is maintained. There is no need for a parking area.

The width of the house conditions the distribution to such an extent that the arrangement of the interior partitions seems to translate directly into the layout of the program. This simplicity is compensated by working with different ceiling heights and qualities. The bedrooms have smooth low ceilings, painted white. The public areas of the house (kitchen-dining room, staircase, study, and multi-purpose room) have high ceilings with exposed beams and vaults, also white. The areas of the extension (living room and second-floor bathroom) have two new wooden beam and plank ceilings that add a counterpoint of warmth to the house. On the second floor, this play of different heights reaches its fullest expression at the point where the spaces of the bathroom and stairway (2.2 m high) lead into the study, where the height of the original sloped roof reaches more than 4 meters. From here, a ladder leads up into the loft. The pavement takes a back seat to the ceilings: the space is tied together by using the same rustic ceramic tile throughout. The sun protection, roll-up window shades, especially in the rear courtyard, aim to create the same effect as the pavement: they are traditional elements used in a contemporary way.

The building envelope is modified to provide the necessary thickness in façades, party walls and roofs; the openings (window and door frames and sun protection) are designed to control heat gains and losses due to sunlight; stone elements are installed strategically to provide thermal inertia, and wood is used to improve hygrothermal performance; the best options are taken into account for heating, cooling and ventilation systems. Everything serves the goal of ensuring the house is comfortable and energy efficient.



---
Project: 82SAN Renovation and expansion of a row house in the center of Terrassa
Location: Terrassa, Barcelona
Phase: Finished construction
Gross floor area: 142m²
Design date: 2016
Construction date: 2017-2018
Developer: Private
Architects: Llorenç Vallribera, Aleix Gil
(VALLRIBERA ARQUITECTES)
Collaborators: Sergi Ballester, architect; Xavier Delgado, quantity surveying; Jesús González, structural consulting.
Total primary energy consumption: 50.57 KWh/m² per year
Total CO2 emissions: 10.59 KgCO2/m² per year
EPC rating: A
Photographs: ©José Hevia
---
Español
La particularidad de esta casa entre medianeras reside en la angostura de su parcela (3,80m de ancho) y un patio muy largo. Los clientes, una familia formada por un matrimonio y sus dos hijos necesita el programa estándar para una familia de cuatro personas.

Dentro de la volumetría del edificio existente, se establece realizar tres habitaciones de dimensiones generosas y proporciones parecidas. En planta baja, dando a la calle, la habitación del hijo mayor. En planta primera, dos habitaciones, una para el matrimonio y otra para el hijo menor, cada una situada en una fachada. Se aprovecha la zona central para hacer dos baños. El de planta primera y el de planta baja que también será para invitados. Se amplia el volumen edificado para poder situar la cocina-comedor-estar dando al patio-jardín, al mismo nivel. Se añade un nuevo altillo bajo cubierta, que proporciona un espacio polivalente extra, apto para estudiar o para montar una cuarta habitación. Se mantiene la escalera original. No se requiere aparcamiento.

La anchura de la casa condiciona la distribución de tal manera que, la disposición de los tabiques, parece la translación directa del esquema del programa de necesidades. Esta simplicidad se compensa trabajando con distintas alturas y tipos de techos. Los dormitorios tienen un techo bajo, liso y pintado de blanco. Las zonas públicas de la casa (cocina-comedor, escalera, estudio y zona polivalente) tienen techos altos donde se ven las vigas y las bovedillas antiguas, también blancas. Las zonas ampliadas (estar y baño de planta segunda) lucen dos nuevos forjados de vigas y tableros de madera que dan un contrapunto de calidez al hogar. En la segunda planta, este juego de espacios con distintas alturas adquiere su máxima expresión cuando el techo del núcleo del baño y la escalera, muy bajo (2,20m), da paso al estudio donde la cubierta inclinada antigua queda a una altura superior a los 4,00m. Desde este espacio, mediante una escalera 'de pintor', se sube al altillo. El pavimento cede el protagonismo a los techos y unifica el conjunto utilizando una pieza cerámica rústica. La protecciones solares, persianas alicantinas, sobretodo en el patio, buscan el mismo efecto que el pavimento. Son elementos tradicionales colocados de forma contemporánea.

Se trabaja la envolvente del edificio para dar el espesor necesario de aislamiento en fachadas, medianeras y cubiertas; se diseñan las aberturas (carpinterías y protecciones solares) adecuadas para controlar las ganancias y perdidas de energía solar; se colocan estratégicamente elementos pétreos para dar inercia y elementos de madera para favorecer el control higrotérmico; se valoran las mejores opciones para la instalación de los sistemas de calefacción, refrigeración y ventilación. Todo, con el objetivo de que la vivienda sea confortable y energéticamente eficiente.
---
Obra: 82SAN Reforma y ampliación de casa entre medianeras en el centro de Terrassa
Situación: Terrassa, Barcelona
Fase: Obra terminada
Superficie total proyecto: 142m²
Año proyecto: 2016
Año construcción: 2017-2018
Promotor: Privado
Arquitectos: Llorenç Vallribera, Aleix Gil
(VALLRIBERA ARQUITECTES)
Colaboradores: Sergi Ballester, estudiante de arquitectura; Xavier Delgado, arquitecto técnico; Jesús González, consultor estructura
Consumo energía primaria total: 50,57 KWh/m² per any
Emisiones CO2 totals: 10,59 KgCO2/m² per any
Qualificació Energètica: A
Fotos: ©José Hevia
---
---
82SAN Documentació Projecte
---